7 unforgettable experiences you can't miss in Patagonia
Nature lovers and photographers, welcome to paradise! From the world-class hiking in Torres del Paine and El Chalten, to watching cute little penguins sing their love songs on Isla Magdalena, to enjoying a 12-year-old whiskey with 300-year-old glacial ice right on Perito Moreno glacier, Patagonia will never fail to impress you.
Here's a list of 7 unforgettable experiences to enjoy during your Patagonia itinerary.
You may also like to check out our inspirational photo diary from Patagonia that includes our pictures from many of the places and activities in this post.

Watch Magellanic penguins on Isla Magdalena
Tens of thousands of these irresistibly cute black-and-white guys call the small island in the Strait of Magellan their summer home. They come here each year at the beginning of Austral summer to breed.
You can visit them on an organized half-day tour from Punta Arenas, usually departing in the morning around 7 and returning around 12. Several companies offer the tour at similar prices, and after all, they might all share the same one boat to Isla Magdalena. We booked with Turismo Comapa and were happy.
Go hiking in Torres del Paine
If you make only one hike in Torres del Paine, make it the trek to the base of the Towers – Mirador Las Torres. This is a full-day trek, starting by Hotel Las Torres (refugios and campings Torre Central and Norte are close by as well) and finishing at an emerald lagoon with the stunning views of The Towers – yes, those towers that give the name to the whole park.
Three granite towers, rising vertically 2 km above the lagoon and almost stubbing the sky. If the hike didn't take your breath away, the view will (well, if the weather cooperates, shall we say…).
The way back is exactly the same, returning to Hotel Las Torres. Altogether it's about 19 km to trek and about 800 m to climb (and descend on the way back). Allow about 4 hours for the way up and slightly less for the way back.
The hike to Mirador Las Torres is also the first part of the so-called W-circuit or W-trek, which is a multi-day trek in Torres del Paine, lasting typically 4-6 days, hiking a different part of the trek every day and staying overnight in various refugios or campsites located along the way.
While we don't have experience with this trek (let's say we put it on our ever-growing bucket list), you can find useful information such distances, map, campsites about this ultimate trek on fantasticosur.com or parquetorresdelpaine.cl
If you don't feel like trekking for the whole day, or as an activity for another day, we definitely recommend a walk to Mirador Cuernos. This is an easy, mostly flat walk of approximately 2.5 km one way (even though with a wind of 100 km/h, even that might require some effort). It starts at a parking lot by Salto Grande waterfall (check it out as well, it's well worth to feel its power) and ends at an amazing viewpoint by Lago Nordenskjold with those iconic "horns" – Cuernos del Paine right in front of you.
Another short walk (about 200 m to climb) is from Camping Pehoe to Mirador del Condor, offering breathtaking views of Lago Pehoe and the whole massif of Paine.
Before hiking, especially the longer hikes, it's a great idea to ask the park rangers about trail conditions and weather forecast and get a map of the park. Their stations are located at Rio Serrano sector (southern entrance to the national park) and Laguna Amarga and Lago Sarmiento (two entrances from the east); there is also a visitor's centre about 5 km to the north of Serrano entrance. For a suggestion about what to wear for trekking, as well as some other information, check fantasticosur.com.
Watch the sunrise in Torres del Paine and Los Glaciares
If the weather cooperates, this will be an absolutely unforgettable experience. These are some of the best sceneries anywhere in the world, seriously! When those jagged mountains get illuminated by the first soft golden rays of the sun, it doesn't get much better than that.
Here's a list of our recommended locations, all of which are also some of the best photographic locations in Torres del Paine and Los Glaciares. Obviously, all of these locations offer amazing views throughout the day as well, in case you're not an early bird (like Kristine) 😊
Hotel village at Rio Serrano (located about 5 minutes' driving time from the Serrano entrance). If you're staying at any of the hotels here, you can literally watch the sunrise from your bed.
The small island where Hosteria Pehoe is located, as well as the location of Camping Pehoe – convenient locations as they can be reached by car.
Mirador del Condor – a place with an amazing view, however, requires about half an hour hike from the car to get there.
Mirador Cuernos – another stunning viewpoint, requires about 45-60 minutes walk from the car park at Salto Grande.
Laguna Amarga – a beautiful wide-angle view of the Towers of Paine that will be illuminated by the rising sun. The location is convenient, as you can get here by car.
Mirador Las Torres – for all those who like it hard-core 😊 The closest accommodation is Refugio and Camping Chileno, from where it's still about 2 hrs hike (or 4 hrs from Hotel Las Torres), so to get here for the sunrise requires a very early start.
Note: Campamento Torres, which is the closest campsite to Mirador Torres, is currently closed, however, check with the park rangers for the latest news about this.
The road just outside of El Chalten – drive a few kilometres out of the town and an amazing view opens up – the quintessential Patagonian postcard view of Fitz Roy being bathed in the golden morning rays.
Laguna Torre – stupendous view of Cerro Torre, another iconic mountain of Argentinian Patagonia. There's a campsite De Agostini close by, otherwise it's about 3 – 3.5 hrs hike from El Chalten.
Laguna Capri – about 1.5 hrs hike from El Chalten, a beautiful lagoon with a nice vista of Fitz Roy.
Laguna de los Tres – another one for you hard-core guys 😊 Breathtaking views of Fitz Roy mountain from the shore of an emerald lagoon. The closest camping is Poincenot, from where it's about 1-hour hike (400 m climb); otherwise it's about 4 – 4.5 hrs hike from El Chalten.
Have fun while riding a horse, sailing a boat or kayaking among the glaciers in Torres del Paine
While the weather conditions didn't allow us to experience these activities, here's some information:
Sailing on Lago Grey: the boat departs from Grey Beach (close Hotel Lago Grey) and stops by Refugio Grey, where it's possible to embark and disembark. The whole sailing takes about 2 hrs 45 min. Check lagogrey.com for details.
Kayaking on Lago Grey: Offered by Bigfoot Patagonia with departures from their camp close to Refugio Grey.
Horse-riding: we suggest to get information from the park's visitors centre or your accommodation.
Go trekking in El Chalten, the trekking capital of Argentina
If you make only one hike, let it be the trek to Laguna de los Tres. All your effort and sweat will be rewarded with a beautiful emerald lagoon with a breathtaking background of Mt. Fitz Roy – be ready for your jaw to drop. This is one of the best hikes in Patagonia. The hike takes about 4 -4.5 hrs one way while climbing approximately 800 metres. It starts in El Chalten, right at the end of the main street, however we recommend to use a shuttle service to Hosteria El Pilar (ask your accommodation to book this for you) and hiking from there, thus turning this into a one-way hike (except for the section between camping Poincenot and the lagoon itself – the 400 metre zig-zag climb).
Another recommended hike in El Chalten is to Laguna Torre that offers stunning views of Cerro Torre. The trail starts right in El Chalten and it takes about 3 – 3.5 hrs to reach the lagoon, climbing about 250 m along the way. We recommend being nice to your legs and doing this hike after the Laguna de los Tres one, as it is easier.
For more information about hiking and other activities in El Chalten, visit elchalten.com
Enjoy whiskey and ice on Perito Moreno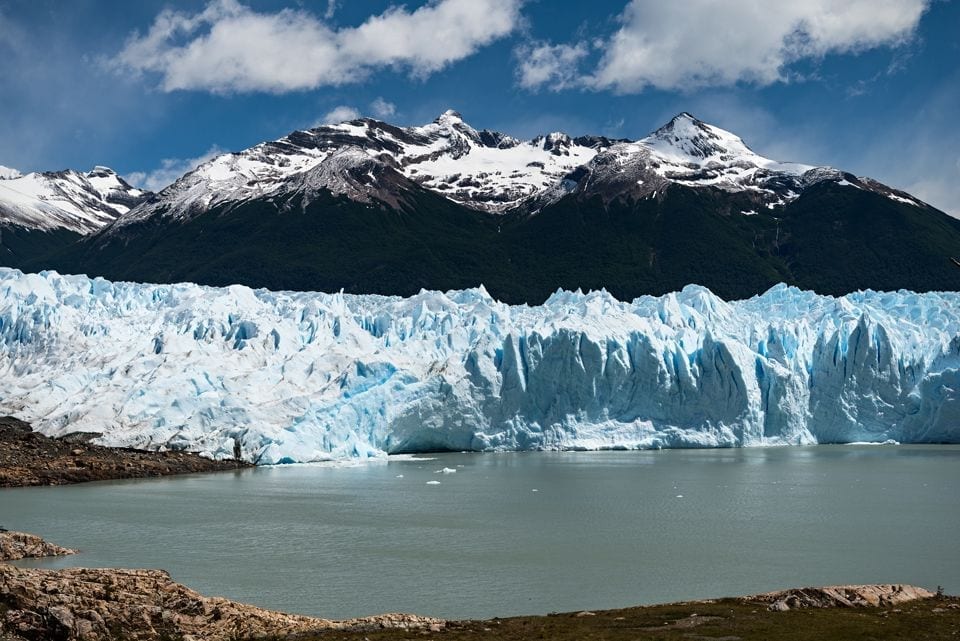 Perito Moreno's front wall is about 60 metres tall and huge chunks (I mean, like reeeally huge chunks) of ice regularly calve and fall off into the lake. Imagine the roar, imagine the splash! This will literally send the shivers down your spine.
However, to best experience the glacier, put on the crampons and walk on it! This is an organized tour with Hielo y Aventura and we can definitely recommend them.
Minitrekking is an easy and shorter option while BigIce requires a bit more effort. Whether you choose one or the other, fun is guaranteed, as is whiskey with the glacial ice at the end of the trek 😊
Open a bottle of wine (advice for rainy days)
The weather turned foul? Unfortunately, that's what the Patagonian weather knows how to do damn well. We had to skip several of our planned activities due to everlasting rain and wind, especially in Torres del Paine. So what to do on such a day? Feel free to brainstorm for ideas with a bottle of wine 😊 Whether you prefer Chilean Carmenere or Argentinian Malbec, it's still gonna be an awesome day at an awesome place.
---
Found this article inspiring? Pin it!